The Donnelly Law Firm won two (2) of the Top 20 Verdicts in New Jersey in 2018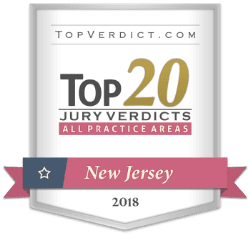 We at the Donnelly Law Firm are thrilled to announce that our firm has been named twice on the Top 20 Verdicts in New Jersey in 2018! We are extremely proud to be recognized statewide for the hard work we do on behalf of our clients. Our experienced legal team is tirelessly devoted to delivering the maximum compensation each and every time.
We are proud of our firm's impressive rankings, marked as #2 and #13 in the highest verdicts won for the year. Both of these cases involved catastrophic and irreversible instances of malpractice and negligence, of which our tireless attorneys were passionately fighting to expose. This remarkable accomplishment emphasizes and solidifies just how skilled and results-oriented our legal team is, and we look forward to continued recognition for years to come.
#2: Tapia v. Alam, et al.
We secured a $20 million verdict for a birth injury case consisting of severe medical malpractice when delayed childbirth and the failure to monitor resulted in a severe brain injury, Cerebral Palsy.
#13: Estate of D'Alessandro v. Siegel
Our team obtained a $3.1 million verdict in a wrongful death case involving medical malpractice in the form of a delayed diagnosis of cancer.
For the full list of top 20 plaintiff's jury verdicts obtained in New Jersey in 2018, click here.
Top-Rated Personal Injury Attorneys Tirelessly Advocating For Your Rights
At the Donnelly Law Firm, we are led by an unparalleled desire to hold negligent medical caregivers accountable to those they have injured. Our trusted legal team has the tenacity and determination to ensure your voice is heard. We won't hesitate to go above and beyond in our fight to deliver the compensation you deserve.
Schedule an initial case evaluation with a member of our compassionate and experienced team by calling (800) 398-1866.
Posted By
The Donnelly Law Firm
Categories: